User:Kynh
From Apache OpenOffice Wiki
Profile
Full Name: Katsuya Kobayashi ("小林勝哉")
OOo alias: kynh
My contribution: member of OpenOffice.org Marketing Project, and Marketing Project under the governance of OpenOffice.org JA Project
Nationality: Japan
Mother tongue: Japanese
Home Page: Katsuya Kobayashi's Home Page



OpenSourceWorld2009/Tokyo .org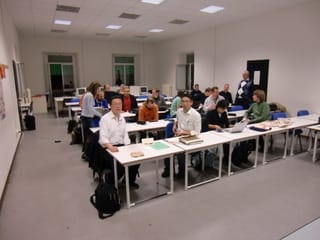 OOoCon2009,Orivieto,Italy

OOoCon2010,Budapest,Hungary

Thanks!

Study of ODF
What's new OpenOffice.org and ODF
2nd ODF Plgfest, Orvieto, Italy
Presentations
OOoCon2009, Orvieto, Italy
DII workshop, Brussels
ODF Specification
About Open Document Format standardization
ODF History
OASIS ODF Standard
OASIS ODF Community
ODF Explanation
Related ODF Information
ODF Interchangeability
OASIS OIC Expository Work
OASIS OIC Expository Work Produced by the Committee
Related Informations
Japanese Government Policy
Standardization organization
OASIS
ISO/IEC JTC 1
ITSCJ JTC 1/SC 34 - Document Description and Processing Languages, Japan
World Wide Web Consortium (W3C)
Committee member
OASIS TC member list
Chair: Michael Brauer Sun Microsystems, Robert Weir IBM
Chair: Donald Harbison IBM
Chair: Bart Hanssens Fedict - Belgian Federal Government
ISO JTC 1/SC 34 member list
Chair: "大阪工業大学 小町教授"
Government member: "経済産業省基準ユニット 根岸喜代春課長補佐"
Committee member web
ODF Plugin and Converter products
Sun ODF Plugin for Microsoft Office
OpenXML/ODF Translator Add-ins for Office
Converters
Viwers
Utilities
ODF Solutions and Marketing
ODF toolkit
Output environment of XML(in Japanese)
How to make and management of document that uses ODF?(PDF,859kb,in Japanese)
ODF Solutions
ODF Social Promotion Best practice at Aizuwakamatsu City, Japan
Aizu Wakamatsu City Spread and enlightening activity(in Japanese)
Aizu Wakamatsu City ODF Enlightenment logo(pdf)(in Japanese)
ODF Logo
OpenOffice.org Status
Oracle's Public Policy
OpenOffice.org Community Key Persons
Sun's G11n team
Key Architecture Projects
Lead: Michael Brauer, Co-Lead: Svante Schubert
OpenOffice.org Roadmaps
OpenOffice.org Features
OpenOffice.org Marketing Facts
Sun Microsystems, Inc. Derived products
StarOffice 9 Getting Started Guide(in Japanese)
IBM Derived products
Microsoft Office Status
Microsoft Marketing Strategy
What is the marketing strategy of Microsoft Office 2010? (in Japanese)
Marketing strategy that supports success of Windows 7 (in Japanese)
Microsoft General Interoprability Initiatives
Microsoft Document Interop Initiative
Microsoft Office Interoparability Report
Microsoft OOXML Technology
Novell and Microsoft Partnership
White Papers
Other Doucument Format
Related Standards
XML Character
Study of Community Governance
What's new OpenOffice.org Community Governance
Purpose of this study
OSS Strategy
OpenOffice.org Licenses
GNU Lesser General Public License v3 (LGPL) (Effective with OpenOffice.org 3.0 Beta)

GNU LGPLv3 Japanese reference(in Japanese)

Public Document License (PDL) Version 1.0

Public Documentation License (PDL) FAQ Version 1.1(in Japanese) (OpenSolaris Project jp: FAQ Center referenece)

In some cases, we also permit the use of the Creative Commons Attribution License ("Attribution-NoDerivs 2.5") (Japanese reference)
OpenOffice.org Wiki Authors licensing declaration
OpenOffice.org Community Forum WebsiteTerms of Use
This Site and its contents are made available by Sun Microsystems, Inc. ("Sun"), CollabNet, Inc. and/or O'Reilly & Associates.
For Reference: Other OSS Community Governance
SCA
Sun Microsystems, Inc. Contributor Agreement
This document is licensed under a Creative Commons Attribution-Share Alike 3.0 Unported License (Japanese reference)
Sun Microsystems, Inc. Contributor Agreement (Including OpenOffice.org Exception)
My View Point of SCA
My Questions about SCA(in Japanese)
Maho's Advice for me(in Japanese)
My Questions about how to ask(in Japanese)
Maho's Advice for me(in Japanese)
Stefan Taxhet is a Counter Person about SCA, He is a Community Council member as One Sun Staff Member.
about constructions of SCA for OO.o ask to Community Council on 17 Jul 2009
Louis's Advice on 21 Jul 2009
My thanks on 21 Jul 2009
Louis's contact to Tiki Dare, the Director of Trademarks & Marketing at Sun Microsystems, Inc.(Menlo Park, CA), and Simon Phipps, the Chief open source officer at Sun Microsystems, Inc.(Menlo Park, CA), on 22 Jul 2009
My thanks Louis, Tiki and Simon.
Martin Hollmichel's Advice on 27 Jul 2009 about "then-current exempted contributions guidelines" as External Project
Louis's formal answer, on 14 Oct 2009.
  2. How does the Sun Contributor Agreement differ from prior ones?
     The new Sun Microsystems Inc. Contributor Agreement (SCA) for OpenOffice.org contains an addendum that excludes non-core contributions, like extensions and documentation, from the joint copyright assignment, provided that these components are not intended to be included in the OpenOffice.org product that can be downloaded from OpenOffice.org. The new agreement also protects against patent misuse and abuse and thus works with the LGPL v3 to ensure a more stable open source community.
     The SCA further provides for stronger patent protection and includes an exception for extensions and documentation not present in prior agreements.

 13.  How are extensions affected by the new agreement and license?
     The SCA's exemption for non-core contributions, inclding extensions, means that contributors can create and post extensions to the project site as they do now without having to assign copyright unless those extensions are to be included in the product.
     The LGPL v3 operates as earlier versions and unless the extension ties into the product's libraries, it is not affected by the actual license; aggregation, bundling, and other such packaging do not affect an extension's own license.

My thanks, on 27 Oct 2009.
My confirmation to some colleagues, from 07 Jan to 01 Feb 2010.
I submit a signed and filled-out copy of the Sun Microsystems Inc. Contributor Agreement (SCA) (Including OpenOffice.org Exception), scan a signed original and email to Copyrightfax at sun.com, on 01 Feb 2010.
Issue 108812 to confirm activation to Stefan Taxhet, on 01 Feb 2010.
Louis's warning to delay, on 01 Feb 2010.
My response, on 02 Feb 2010.
Stefan Taxhet's note, [dev How is SCA after Oracle], on 29 Jun 2010
My ping, on 30 June 2010.
Maho's ping, on 07 Juky 2010.
Issue 108812 has closed on 07 July 2010.